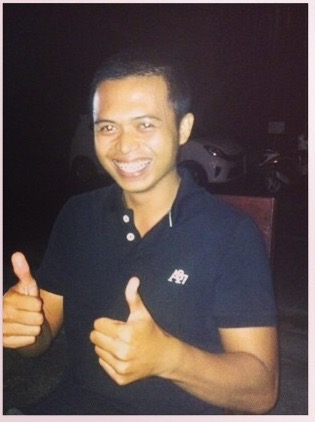 I met Leo on my first trip to Bali in 2012. He was a barista in my favorite coffee shop, Kopi Desa, and we became friends during my stay. I returned last year to stay for a month and was so happy to see that he had started his own restaurant, Cupit BBQ. Cupit is located in Penestanan right outside of Ubud, the cultural center of Bali. The dining room looks over a river bank with lush tropical plants growing down the hill; such a lovely place.
Leo beams with positivity and greets everyone with a smile. His place specializes in BBQ and is a family run operation. You can tell that the food is made and served with love. It was one of my favorite spots to stop and hang out after a warm walk into town. He serves amazing homemade ginger ale and his beer is kept very cold.  Leo will even play guitar and have a sing-a-long with you if you ask nicely; one of my favorite memories from Bali.
I am inspired by Leo's story and wanted to share a little bit of his spark. My hope is that this will inspire others to go after their dreams and not be afraid of the work they sometimes require.
What made you decide to go after your dream of opening Cupit BBQ?
Leo: Well since I had lots of experience in many restaurants as a barista, waiter and cook, I wanted to make something small like Cupit so I could do all the stuff I have learned. I wanted to have a restaurant before. When it all works, I want to travel to see the world.
What does "dream come true" mean to you?
L: The thing that we really wanted to have and we get it after the hard work we have done.
Are your dreams coming true?
L: I have Cupit but I have other dreams that I need to work out. I really want to travel as you know I tried for a U.S. visa before and that didn't work. I want to try again and I want to travel to Europe. I know its going to be hard but I believe there are always ways to make it happen. I know I will get it. Cupit was my first dream and it came true.
When you were a little boy, what did you want to do when you grew up?
L: Honestly, I have know clue what  I want to be. Since we have a difficult life (poor) before, my family was always working. I started working the first time when I was 6 years old. I helped my mother sell her ice cream and part time I went to school. So, most of the time, I worked hard as a kid. Then I went to tourism school and I worked on better jobs and learned a lot of things.
Like English? Because you speak lovely English.
L: Yes! I learned English in university for 4 years. But before, I learned it a little bit as well in high school. I also learned Japanese as well in high school.
How many languages do you speak?
L: Bahasa, Balinese, English and a bit of Japanese now since I never practice. I am still learning Dutch and German.
That is amazing! Are you proud of yourself?
L: Yes! I had a big dream to make come true. "I am a dreamer, and I am not the only one" that's written on my arm so I can see it and work on my dream.
I love that! So, I teach people about living an intentional life. It is basically not just working towards goals but having a reason (intention) behind everything we do. What would you say your intentions are?
L: Well I think for me its simple. I really want to change my life to be better than before. I want to see the world. By starting Cupit, I think I can make it happen.
Terima Kasih, Leo!
I greatly appreciate Leo for his openness and willingness to share with me. Most of all, I am grateful for his friendship and inspiration. Relentlessly pursuing a dream works with the right intentions. Leo wasn't afraid of the hard work and I admire him for sticking to his dreams. When I returned home from my trip, his story inspired me to be brave and start my business. Bali continues to teach me lessons, even a year after I've returned. If you get a chance to visit this enchanted place, make sure to visit Leo's restaurant and say hello. You won't regret it.