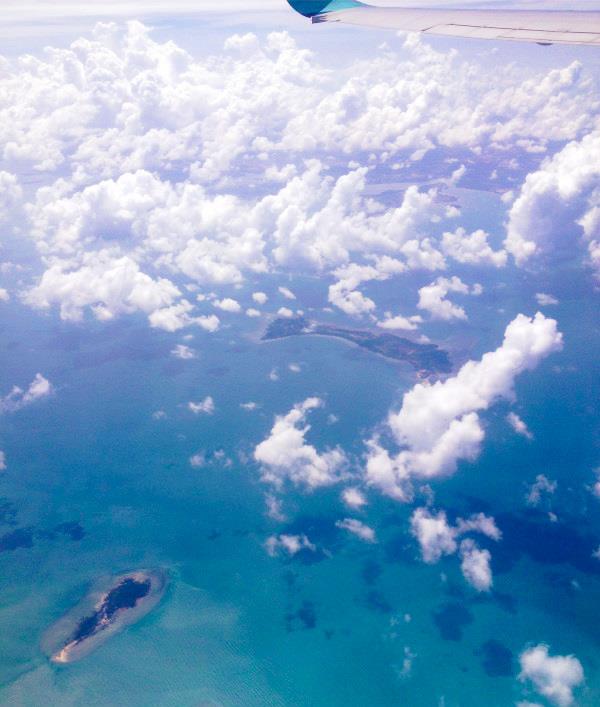 I silently sighed as I saw my impending situation for the next fourteen hours. I was going to be in the middle seat. My seat mates were discussing how one preferred the aisle over the window, and I just stood there while the seating arrangements were decided. Either way, I was going to be in the middle.
The flight was from San Francisco to Manila. The first layover en route to Bali. "This is an easy flight" the old man sitting next to me said as he adjusted his Bose earphones. He asked if I was headed to the Philippines and I let him know it was a layover.
For the next several hours, I had a lovely conversation with him. He trains teams in emergency response all over the world. He was flying to the Philippines to teach residents how to reclaim their water and drill new wells. He asked me where I was headed and my plans for the trip. I let him know that I had recently quit my job to travel and figure out my next step. He nodded and then went into a long explanation on how life is supposed to be lived now and to not wait for the future because it may never come.
His background was in the military as a paratrooper and said he never felt fear until he went on a ride at a fair with his daughter where he was scared for her safety. "I jumped out of planes into war zones and nothing compared to the fear I felt in possibly losing something I loved." This was a turning point for him where he decided to live life fully.
The conversation was rich and we discussed gifts that each person has and I told him that I could tell his was service and encouragement. He told me that I had encouragement too because he was inspired by my story. This surprised me because I had been battling some doubt on whether or not I had made the right decision.
Then he said something to me that I will never forget, "Now you need to go from success to significance." He explained that success is only a portion of happiness, what really matters is living a life full of significance…a legacy (even if you don't have children). Forward thinking and how one acts after unexpected events is key. How we react shapes what happens next.
I was so grateful to sit next to this man. I think back to how I felt when I realized that I was going to sit in the middle for a long flight and how a negative thought turned into a memorable conversation. It was serendipitous to meet this man and have such a meaningful conversation about direction just a week after I quit my job. I didn't know what was next. I knew I wanted to make a difference, but I was still in the mindset of success by any means. Changing my mindset to significance and making a difference by helping others completely transformed my life.
I began living my life with intention, striving to make a difference and using my gifts. I have had 2 career transitions in my life and this time, I feel like I am going after my true desires. Taking the time to listen to my intuition and striving for a life of significance is a new definition of success for me. The anxieties that I felt with my first career break are not present because my focus is on something greater.
Everyone has a special gift to share with the world. Seeing significance as success definitely requires a change of thought. When we are  living the life we are meant to be living, success is measured in non-tangible ways.  My gratitude is boundless to the universe for the middle seat and the wisdom I learned on that plane.
How can you add significance to you success story?